Ease of Being
Six Day Silent Retreat
25-30th September 2018
with Fuyuko Toyota
Brahma Kumaris Centre
83-99 Stotts Lane,
Melbourne, Frankston South
Victoria, 3199, Australia
see website
 | 
map
Reserve your place with a deposit of $500.
(Please note, early bird price ended 31 July).
Please note, this is an iRest Insitute Retreat and qualifies for iRest Certification.
About The Ease Of Being Retreat
Take much needing pause from daily life and follow your heart's call for an inward journey to rest and renew.
When we allow us to simply rest in and as our inherent ease of Being-ness, we experience feelings like aliveness, peace, lovingness, and quiet joy/happiness without cause or condition. We are simply recognizing our original Being-ness = True Nature.
This retreat is an opportunity to experience your inherent Ease of Being. Our daily gentle program like iRest Yoga Nidra Meditation, Breath-sensing, Body-sensing yoga, Pranayama, walking in nature, and journaling in the beautiful and peaceful environment at Brahma Kumaris Retreat Centre in Victoria will nourish you deeply.
Will you join us for a delightful self-rediscovery for authentic Ease and Love?
About Fuyuko Toyota
Fuyuko Toyota is a certified iRest Senior Trainer, Retreat Leader and Supervisor/Mentor. For the past 22 years, she has been deeply committed on the path of Yoga and ancient Non-dual wisdom. She is also a certified meditation teacher, a qualified Hatha Yoga teacher, and Yoga therapist.
She incorporates iRest and Self-Inquiry in her teachings of Yoga, Somatic body awareness and meditation at her yoga studio "Prema Yoga" on the Gold Coast, Australia and internationally.
In 2007, Richard Miller, her spiritual teacher, brought to Fuyuko a deeper understanding of who we are. From a life of ever deepening joy, astonishment and Stillness, a heartfelt wish and vow to share these precious teachings has arisen authentically.
She teaches iRest trainings and retreats in Australia, New Zealand and Asia countries. She has been assisting and co-teaching iRest trainings in North America for Richard Miller and other senior trainers as well.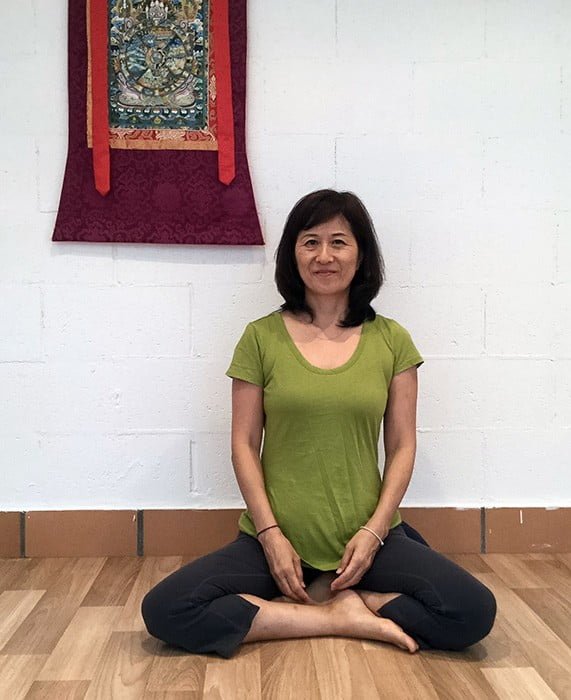 I deeply respect Fuyuko for how she integrates her grounded presence and deep passion for truth, beauty, love and community when teaching yoga and iRest meditation practices.
I am deeply grateful for Fuyuko's ability to bring these precious nondual teachings forward into the world. I hope you take advantage of sharing time with Fuyuko in her upcoming offerings.
Dr Richard Miller
Founder of the iRest Path of Meditation
Read Richard Miller's full endorsement of Fuyuko >>
Fuyuko Toyota is a gift to this world!
She is an exemplar of living an ethical, caring life, showering love, compassion and kindness on those she teaches and guides. Through her many years of immersion in the spiritual life, including a decade of sincere study of iRest from Dr. Richard Miller, Fuyuko displays an authenticity of both humanness and quiet, modest awakening, that touches her students, colleagues and friends.
If you have an opportunity to attend a retreat of training with Fuyuko – take it!
Leigh Blashki
Founder AIYT, past-president Yoga Australia, Certified iRest Teacher
Read the full testimonial >>
Sample Schedule (subject to change)
Arrival Tuesday 25th September 2018
4pm – 5pm
Arrival & Registration
6pm
Dinner
7–9pm
Evening Program
Wednesday – Saturday, 26-29th September
7am – 9pm
Program
Final Day Sunday 30th September
7am – 12noon
Program

Depart after lunch

*Please arrange your travel schedule so you can attend in full in order to fill the certification program requirement.
Cancellation Policy: Refunds are available, less a $300 processing fee before end of 31st August, 2018. No refunds are available after that date, unless we are able to fill your place from the wait list.
Fee Schedule
You may request which room option you would like. Please note though that the options are subject to availability – we will confirm as soon as possible after receiving your deposit. Note: All rooms are with ensuite (private shower & toilet).
All prices are inclusive of meals. All prices include GST. Early bird pricing ended on 31 July.
Price Options

Option A : Single Room ensuite
(currently fully booked)
$1815
Option B : Twin with ensuite
$1595
Option C : Commuter
$1090