Level 2: Advanced iRest® Yoga Nidra Training
iRest Level II training is designed to provide you with a deeper understanding of the principles underlying the theory, practice and delivery of iRest Yoga Nidra so that you can hone your delivery of iRest to groups and individuals in public and professional settings.
Level II Learning Objectives:
Receive advanced training in teaching iRest to groups and individuals.
Participate in advanced group lectures and peer discussion groups.
Understand the teacher-student relationship, teaching issues and ethical considerations.
Receive advanced iRest experiential group and one-on-one practice sessions.
Enhance your understanding of the historical context and the path of meditation in which iRest is embedded.
Learn Eastern and Western psycho-spiritual views that inform iRest and the path of meditation.
Learn about evidence-based research showing the efficacy of iRest with different populations.
Deepen your personal practice of iRest.
Upon completion of the Level II Training you are eligible to:

Describe yourself as having advanced training in iRest Yoga Nidra in advertising and promotional materials, and when delivering iRest in public and professional settings.
Be listed on the IRI website as having completed Level II.
Be recommended by IRI to people seeking iRest teachers in their local area.
Work as an assistant on an iRest research project.
Audit Level II trainings at reduced rates.
Assist at Introductory and Level I and Level II trainings and retreats.
Assist at iRest research projects.
New! Access the valuable "iRest Teacher's Resource Webpage" to download iRest teaching materials and professionally designed promotional brochures, flyers, and more!
New! Join the iRest "Teacher's Community Network" (TCN) (additional fees apply).
"Richard has created a program that delivers the profound experience of our fundamental wholeness to not only spiritual seekers, but other people as well such as vets, homeless, and children. I highly recommend this training for anyone interested in learning how to help people heal with an easily accessible method to access profound truth of their true nature."
Lama Palden Drolma, Founder of the Sukhasiddhi Foundation
Recommended reading for the IRI iRest Yoga Nidra Level II Training
Teaching Yoga: Exploring the Teacher-Student Relationship
by Donna Farhi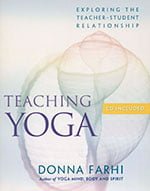 Drawing on decades of experience in training Yoga teacher, Donna Farhi offers the first book to set professional standards for yoga teachers. Teaching Yoga explores with depth and compassion a variety of topics both practical and philosophical, including how to create healthy boundaries; the student-teacher relationship (including whether a sexual relationship is acceptable); how to create physical and emotional safety for the student; what is a reasonable class size; how much a class should cost; and how to conduct the business of teaching while upholding the integrity of Yoga as a philosophy, a science, and an art.
A bonus CD features the author speaking about yoga ethics at a 2002 conference.