To Abide In The Heart:
4 Day iRest® Silent Retreat
with Fuyuko Toyota

28 Nov – 1 Dec 2019
Brahma Kumaris Centre
83-99 Stotts Lane,
Frankston South, Victoria, 3199, Australia
At iRest Meditation retreats, sincere heartfelt practice, with some extraordinary alchemy, will turn the most ordinary of ingredients – sensing Body, Breath, and Mind – into the most profound deep stillness.
Research shows that Yoga and meditation foster health and well-being at every level – physical, emotional, and spiritual. Hence, many people are now turning to Yoga and meditation to support and help themselves, their loved ones and the community at large, as life's challenges seem increasingly intense.
Discover how To Abide In The Heart through ancient yogic non-dual teachings, which help us heal the misperception of separation and remember our inherent wholeness and indestructible peace and stillness, no matter our circumstance.
During this retreat you will be guided through simple, pure and direct practices, such as self-inquiry meditation, pranayama, Hatha Yoga, Yoga Nidra, sitting and walking meditation practices.
Join us on this transformative iRest Yoga Nidra Meditation weekend.
No prior experience necessary. Simply bring an open mind and curiosity.
This retreat is lead by Fuyuko Toyota: a senior iRest Trainer, Retreat Leader and Director of iRest Institute Australasia. It will be held in partial silence allowing you to steep in stillness and deep self-inquiry.
This event satisfies the iRest Certification short retreat requirement.
About Fuyuko
Fuyuko Sawamura-Toyota is a certified iRest® Senior Trainer, Retreat Leader and Supervisor/Mentor. For the past 20 years she has been deeply committed on the path of Yoga and ancient Nondual wisdom. She is also a qualified Hatha Yoga teacher since 1996.
She incorporates iRest and Self-Inquiry in her teachings of Yoga, Somatic body awareness and meditation at her yoga studio "Prema Yoga" on the Gold Coast, Australia and internationally.
In 2007, Richard Miller, her spiritual mentor, brought to Fuyuko a deeper understanding of living life in a nondual way.  From a life of ever deepening joy, astonishment and Stillness, a heartfelt desire to share these precious teachings has sprung forth.
She teaches and hosts iRest trainings and retreats in Australia and New Zealand. She has been assisting iRest trainings in North America for Richard Miller and other senior trainers.

"I deeply respect Fuyuko for how she integrates her grounded presence and deep passion for truth, beauty, love and community when teaching yoga and iRest meditation practices …
Pricing Schedule:
Accommodation Options

Tuition and Room & Board

GST (10%)

Total Cost




(incl GST)

A. Single Room and all meals
964
96
1060
B. Double Room Share and all meals
910
90
1000
C. Commuter Option (all meals & facility usage, no room)
710
70
780
The Early Bird finished on 31st October 2019.
Cancellation fee is $300 until 28th October 2019, and after that unless we can replace from a waitlist, there is no refund.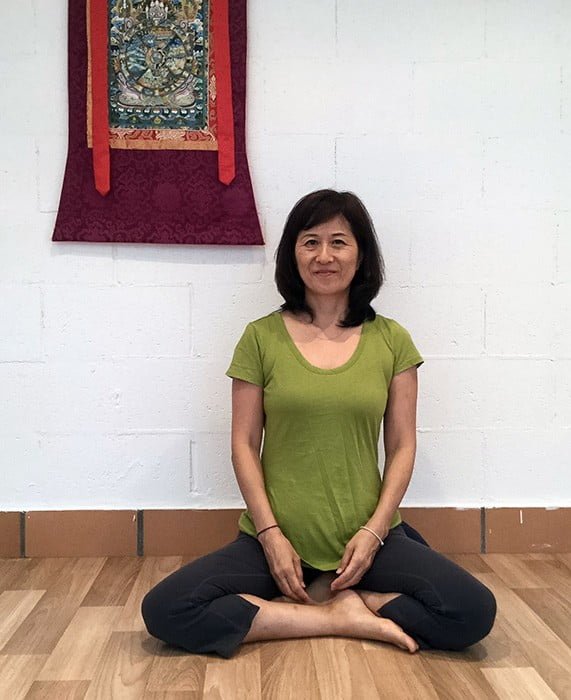 Registration
Check-in is available from 3 pm. Registration between 4pm – 5 pm on 28th November (Thursday). The first dinner at 5:30 pm – 6:30 pm, and the first practice begin at 7 pm.
The retreat program ends at 12 noon on 1 December (Sunday) followed by lunch.
Sample Daily schedule

(subject to change):
6:00 – 7:00 AM Personal Practice (optional)
7:00 – 8:00 AM Early Morning Program
8:00 – 9:00 AM Breakfast
9:30 – 12:30 PM Mid-Morning Program
12:30 PM Lunch
1:30 – 3:30 PM Free Time
3:30 – 5:30 PM Afternoon Program
6:00 – 7:00 PM Dinner
7:15 – 8:30 PM Evening program
The Venue
Brahma Kumaris Centre
83-99 Stotts Lane, Frankston South
near Melbourne, Victoria, 3199, Australia
Website | Map | Directions
The nearest airport for local & international travel is Melbourne International
Banking Information
ANZ Bank
Benowa Gardens S/C Branch
Cnr. Ashmore & Benowa Rds, Benowa,
Qld 4217, AustraliaBSB 0 1 4 – 5 2 6
Account Number: 3 9 2 6 2 5 7 9 7
Account Name: Prema Yoga Studio
If transferring from overseas use
SWIFT Code: ANZBAU3M
When depositing, either state your name or mobile phone number as the reference and advise your payment by an email to events@premayoga.com.au
The Brahma Kumaris Centre
The Brahma Kumaris Centre is a beautiful retreat centre near Melbourne and the Centre provides a reflective environment. It is a place where one can detach from the daily pressures of life, re-energise the spirit, and reconnect with the spiritual self.
83-99 Stotts Lane, Frankston South
near Melbourne, Victoria, 3199, Australia
Website | Map 
The nearest airport for local & international travel is Melbourne International